This pilot project was aimed to smooth the way for future joint marketing projects, comprised EPA full members like B-Plast, Bang & Bonsomer Estonia, Estiko-Plastar, Frog Plastic, Plastiktoos, Plastone, Talent Plastics Tallinn and Vesimentor.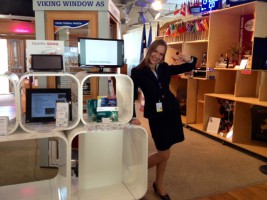 The exhibition consisted of a non-stop video clip, which was directed towards the lounge and is well marked along the attending passengers on the flight. The clip was accompanied with paper materials, that were handed over for request by any interested visitor.
If some parts from the promotional video – like one or another Estonian plastic converter – managed to catch visitors interest, he or she could ask booth attendant for further information and/or contact data of the company and request in hard copy materials.
The project lasted one year and was adopted extremely well. The experience gained will be used in the development of future joint marketing activities.